Surveillance tools a private investigator uses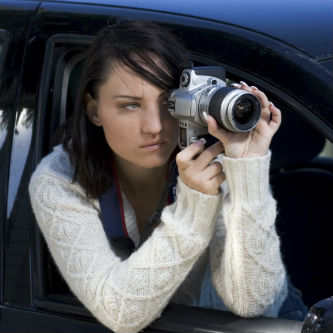 People spend thousands of dollars on private investigators. Private investigators do a variety of different jobs, like spying on people and documenting their findings. The most common investigation they conduct is when a wife or husband suspects their spouse is cheating on them and wants the investigator to find out. This means the investigator has to follow the spouse and take pictures of where they go.
But how does a private investigator go about following someone? This method hasn't changed too much in the last 30 years. Investigators still have to follow the person in their cars while keeping a safe distance away from them. If the person has a smartphone and the investigator cannot find them on the road anymore, they can track the GPS signal of their phone to find the current location.
This means investigators don't have to worry about rushing through traffic to stay behind the person and risk getting into an accident over it. Instead they can just look at the map screen on their smartphone to find the person's current location.
Private Investigator Photos
When it comes to taking pictures and recording what the person is doing that you are following, this has gotten much easier. Investigators don't have to carry big flashy cameras to take these pictures like they used to in the old days. Now an investigator could be within feet from the person they are following and still take their picture without them knowing it. All of this can be done through their smartphone.
The investigator can just take out their phone and pretend they are texting someone, but instead they will be taking pictures the whole time. What's even better is they can record video on their smartphone as well. So if a cheating spouse is at a restaurant with their lover, the investigator can just take out their smartphone and video record the whole interaction without drawing attention.
Private Investigator Background Check
When it comes to researching for background information on a particular person, this has gotten much easier as well. All an investigator has to do is go on Google and type in the name of the person and their last known location. If they have an active address and phone number then it can be found right away.
Search engines will also lead investigators to the social media profiles of these people, which can sometimes provide even more revealing information. People often post revealing pictures on their social media profiles on Facebook and Twitter, which actually creates less work for the investigator to do.
Then if the research involves finding the person's employment background, then LinkedIn could provide that information if it is available. The internet is a crucial tool that gives investigators access to a wide range of information, both public and private. They can search courthouse records, marriage records, employment records and more. Between the internet and the smartphone, an investigator has most of the tools they need to follow and document just about anyone.