SUSPECT YOUR WIFE OF CHEATING
Are you haunted by the thought that your wife may be cheating on you? If yes, you're not alone. While men have been statistically shown to be more likely to stray in a relationship, women are not far behind. Studies reveal that 54% of women commit infidelity and about 14% of married women have cheated at least once during their married life.
Send us your questions using our 100% CONFIDENTIAL QUESTION & ANSWER Messaging.
Cheating Wife Investigations
Our private investigation firm specializes in answering the question is my wife cheating. See our
infidelity cases
history & read
what our clients say
about us. We get the answers if your
wife is cheating
& deliver the proof! Call for a FREE consultation at (281) 812-9799 or send us a note with any questions. Consultations, correspondence, and work is
100% confidential.
Dealing with infidelity is always tough. But, it may be risky to confront your wife or take a major step merely based on doubts. Therefore, it's always in your best interests to avoid reacting until you're armed with accurate information backed by solid evidence. This is exactly what AMS Investigators does for you!
We are a trusted infidelity investigation company in Texas, with many years of experience in collecting and presenting information for people to catch their cheating spouses.
Why Do Women Cheat?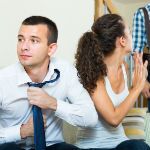 There are many reasons why a woman might stray. They might not get enough attention from their partner or they might look for ways to boost their self-esteem. A woman might also commit to infidelity to take revenge on your past actions. Many women get into extramarital relationships in search of emotional support that they might not be getting from their partner.
No matter what the reason is, infidelity can turn your world upside down. We help gather proof that may be critical during divorce proceedings, if that's the route you're planning to take. In case your fears about infidelity are unfounded, our investigation can save your reputation and relationship from damage in future.
Signs Of a Cheating Wife
If you think your wife has been cheating, there are subtle clues that you can watch out for. One of the major signs of a cheating wife is a drastic change in her behavior. However, even then it might be difficult to tell. For instance, if she is used to hanging out with a lot of male friends, then spotting her at the movies with a male companion may not be a clear indication. Only a deeper investigation can reveal if she's really straying or not. This is where hiring a professional investigator like AMS Investigations can produce concrete outcomes.
How We Help Catch a Cheating Wife
As a team of professional investigators, we use a combination of techniques to get hold of the real facts. Some of the common techniques used by our investigators include:
Email and Internet activity monitoring
Visual surveillance
Video surveillance
GPS tracking
The type of technique used depends upon your specific case, since we believe there's no cookie-cutter approach when it comes to infidelity detection.
Often people try collecting proof against a cheating spouse on their own, but in most cases they are unable to use the information because of how it was obtained. We make sure our investigation methods comply with the law, so that our clients don't get into legal hassles. We always discuss each case in details before laying out our investigation plan. This is to ensure our course of action is clear to our clients. That way can they be in control of the investigation and tell us if there's something they wouldn't want us to do.
Worried that your wife might be cheating on you? Get in touch with us to know for sure! Call us at (281) 812-9799 today for a free consultation.