Every year as February 14th approaches, many of us are feeling the love. Looking forward to spending a romantic Valentine's Day with that special someone. However, for many, this is the holiday that they find out that they are in love with a cheater. No wonder this day sees the highest number of cheating investigations in the Houston TX area.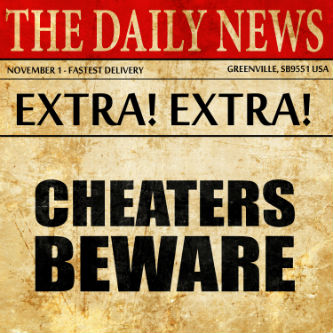 The internet is making it easier than ever before to search for a potential partner. With dating apps and sites on the rise, a quarter of American's admit to flirting online. Good news for single people. Not so good news for couples. This surge has been in-line with increased divorce statistics. And with sites like the controversial AshleyMadison.com making headlines by going so far as to actively provide a resource for married individuals purposely looking for an affair. Companies specializing in cheating investigations are becoming increasingly popular.
Valentine's Day may be the holiday of love. But it is also the riskiest time for cheaters. With many cases of infidelity being exposed at this time. How can you tell if you're their one and only? What are the signs to look out for?
Going AWOL on the 13 – Valentine's Day Cheating Investigations
They may be spending the 14th with you, but what are they doing on so-called 'mistress day' as February 13th has become known? If your partner disappears the day before the big event, then they could be with their side-piece.
Cheating Sign #1 – Flowers
This romantic token is a risky one for cheating partners. Many find receipts for purchases of multiple bouquets. Maybe there's a simple explanation? Or maybe one was for you. One was for the other woman.
It's not just the giving that's risky. On the other hand, unfaithful women may be caught out by receiving a bunch of flowers from their secret lover.
And it's not just the flowers themselves that expose affairs. Occasionally the florist may mix up love notes. Leaving your partner to explain why you were given a card addressed to 'Tracy' from his office. Awkward.
Cheating Sign #2 – Finding Gifts
It's not just a bouquet of flowers that can catch a cheater out. Often men or women with a cheating partner will find Valentine's gifts, only to never receive them. If you find sexy lingerie or expensive jewelry hidden around the house only to get a box of chocolates on the big day. It could be that your other half is being unfaithful.
Cheating Sign #3 – The Paper Trail
Cheaters may be exposed by receipts for the gifts they buy. For example, they buy 2 of the same thing, but you only receive one. Or personal items that you don't receive at all. Receipts for hotel stays are also a big sign that your partner has someone else in their life.
If your other half has a favorite restaurant they may (stupidly) take both of you there. So receipts for costly meals for 2 that you didn't attend are a big red flag.
Cheating Sign #4 – Strange Phone Calls
If you find a record of unexplained calls to an unknown number. Calls at odd times. Or repeated calls to the same number. All of these can be signs that your partner is trying to stay in touch with someone other than you on Valentine's.
If you suspect you're being cheated on and want to be absolutely sure before you make your next move. Get in contact with a private investigator who can help with your cheating investigation needs.